One of the most significant clashes of art and law in history. From The Legal Palette, An Art Law Blog, March 23/ Reprinted here.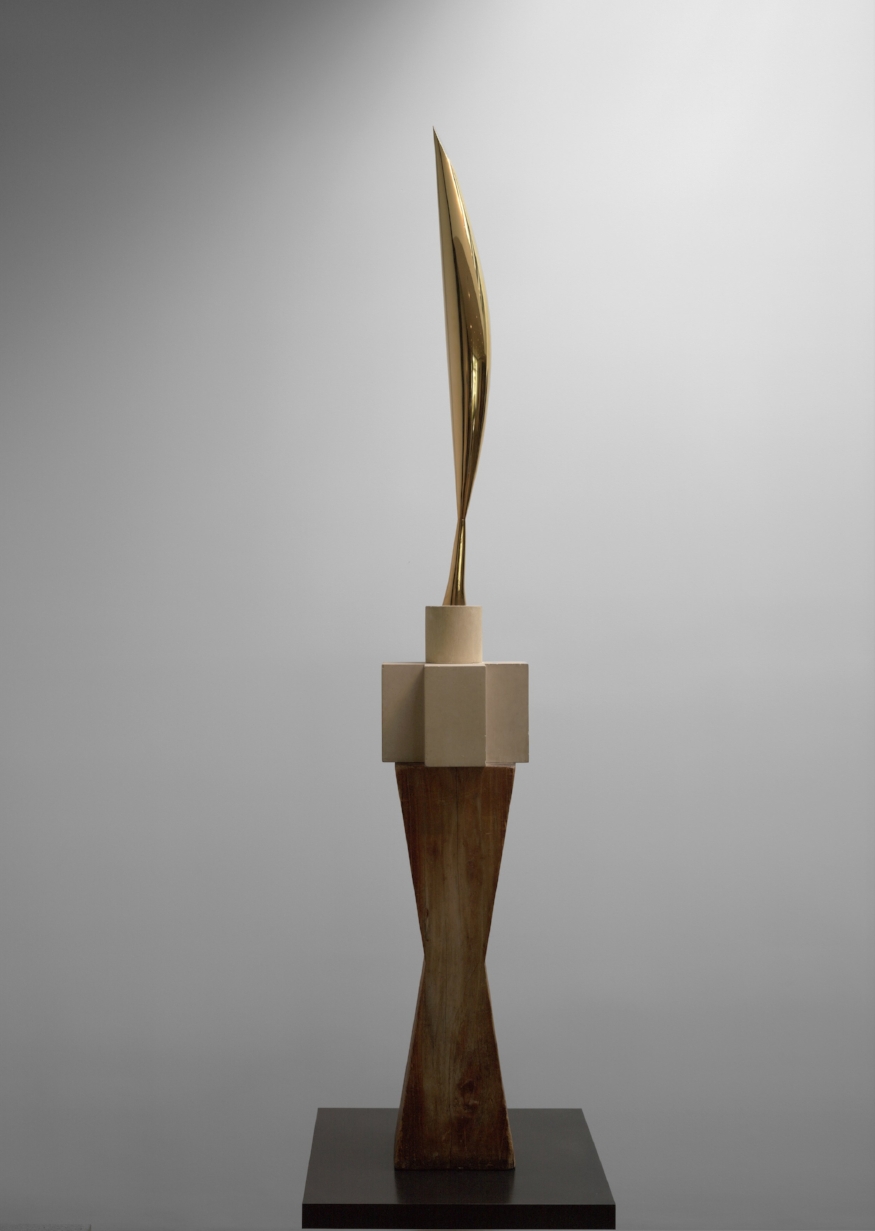 Constantin Brancusi, Bird in Space, 1926, polished bronze, on marble and wood base, 115 1/4 in. (292.7 cm) height, Seattle Art Museum, 2000.221. Partial and promised gift of Jon and Mary Shirley, in honor of the 75th Anniversary of the Seattle Art Museum. Photo credit: Paul Macapia.

For centuries, those trained in the field of aesthetics have struggled to articulate what is art. What, therefore, should a judge, with potentially no arts training, knowledge, or experience, do when faced with the same question? In the 1928 case Brancusi v. United States, Justice Waite of the U.S. Customs Court had to decide whether Constantin Brancusi's Bird in Space sculpture qualified as art for the free import duty. However, previous judicial standards for the definition of art set by the Customs Court in United States. v. Olivotti (1916) and the U.S. Supreme Court in United States v. Perry (1892) did not seem appropriate for such a modern work. Justice Waite, nevertheless, deviated from these past judicial standards and found that the sculpture qualified as "art" by considering the work in both the art historical and legal contexts with the assistance of testimony from those active in the art community. A review of the evolution of the definition of art in these particular customs cases reveals that the principles of Modernism inherent in Brancusi's Bird in Space enabled the Customs Court in Brancusi v. United States to transform the judicial definition of art in the customs context into a more contemporary standard.
Modernism, Brancusi, & Bird in Space
Constantin Brancusi (1876-1957) was a Romanian-born sculptor, painter, and photographer, who worked in France for most of his life. Inspired by folk forms, his sculptural work generally exhibited "reductionist tendencies," such as simplified forms with precise craftsmanship. (Miller). His "Bird Series" particularly exemplified this style. Inspired by the mythical Maiastra, a magical bird from Romanian folklore, Brancusi created his first bird in 1910 and his first Bird in Space in 1923.
Brancusi's Bird in Space is a tall, slender sculpture made of bronze, marble, and wood. The bronze body, which swells at its center and then tapers at both ends, sits on a marble pedestal, which in turn is supported by a wood base. Bird in Space illustrates not necessarily the bird's physical attributes but an abstract illusion of flight, portrayed by the swelling and tapering of the sculpture. The bird is pushing off from its feet tapered at the end and rises up as it thrusts its chest out and slightly tilts its head back. The elongated body expresses the quintessential speed and movement associated with flight. In sculpting each bird, Brancusi started by making a plaster model, which he then gave to a founder for the casting along with instructions and a formula for the bronze alloy. Brancusi then finished the bronze himself. (Giry 2002). This process and the artist's hand are not visible in the work. (Geist 1984, 24). The specific Bird in Space sculpture from the Brancusi case was exhibited at the Brummell Gallery in New York during November and December of 1926. Edward Steichen, a photographer and collector, purchased the sculpture from the artist that year, and the Seattle Art Museum acquired this particular Bird in Space in 2000.
While Brancusi did not actively associate himself with a particular movement, his ideas and principles were loosely aligned with Modernism. Modernists focused on the future and simultaneously reclaimed the distant and ancient past for inspiration. (Oxford University Press). Incorporating aspects of non-European culture, the work of the Modernists promoted abstraction as well. (Oxford University Press). Emphasizing materials, techniques, and processes, Modernist artists concentrated on innovation and experimentation with form. The various social and political agendas of the day also inspired this particular movement.
Customs Definition of Art in Historical Context
U.S. customs law in the nineteenth and early twentieth-centuries imposed import duties on craft and industrial objects to protect these nascent industries. The statutes correspondingly exempted "fine art" from customs duty to encourage collectors and museums to import the paintings of the great European masters and then in turn donate these works to the burgeoning American art museums. (1921 Hearing, 5016-17). In order to fulfill this dual purpose, the tariff acts in their various iterations attempted to clearly distinguish fine art from non-art, with statutory definitions and inventories of various works that qualified for that particular import duty. While such a distinction may seem clear on the statutory page, the courts struggled to apply the law in practice, creating a "rich tapestry" of case law.
United States v. Perry
The Supreme Court in United States v. Perry (1892), established a foundation for the evaluation of art in the judicial context. The defendant in this case imported stained glass windows portraying Biblical subjects for use in a church. The customs official imposed a duty of 45% under Paragraph 122 of the Tariff Act of 1890, which covered "all stained or painted window glass and stained or painted glass windows." (Perry, 146 U.S. at 72). The importer argued that these works instead should have been assessed under Paragraph 465, which imposed a duty of 15% on "paintings in oil or watercolors." (Id. at 74). The importer claimed that the works were not "stained glass" but "paintings upon glass" as the works were created by "artists of superior merit" trained in this specific type of work. Paragraph 122, according to the importer, concerned articles made by artisans and not by artists of "superior merit." (Id.).
The Supreme Court disagreed with the importer's reasoning and found that the works should have been assessed as stained glass windows under Paragraph 122. Acknowledging that the works were "artistic," in the sense that they were beautiful, the Court found the stained glass to be decorative or industrial but not "fine art." (Id.). For the purposes of demonstrating this distinction between industrial and fine art, the Court divided "art" into four classes: (1) fine arts intended solely for ornamental purposes including oil paintings, watercolors, and marble statuary; (2) minor objects of art that are intended for ornamental purposes but are also "susceptible of an indefinite reproduction" such as statuettes, vases, plaques, drawings, and etchings; (3) objects of art that are primarily ornamental but also serve a useful purpose, such as stained glass windows, tapestries, and paper hangings; and (4) objects primarily designed for a useful purposes but are made ornamental "to please the eye" including ornamental clocks, carpets, gas fixtures, and household furniture. (Id. at 74-75). The Court placed the works imported by the defendant into the third category, because the articles were advertised as stained glass windows and were intended for use in a church. (Id. at 76).
The Supreme Court in Perry was particularly concerned about the distinction between "high" and "low" arts based on two main factors: utilitarian function and mass production. In order to preserve this distinction, the Perry standard created a negative correlation between "ornamental" and "useful." The more an object was useful or "susceptible" to mass production, the less likely that it was a work of fine art. But this standard would have excluded art from the forthcoming modern art movements, such as Modernism and Dadaism, which aimed to oppose the crux of the Perry standard and its emphasis on fine art.
United States v. Olivotti
Almost twenty-five years later, the Customs Court in United States v. Olivotti (1916) imposed a somewhat different standard for defining art. The defendant in this case imported a marble font and marble seats, which were copies of ancient Grecian works. The font was a marble basin supported by a long, tapering column ornamented by carvings of leaves. Lions' paws embellished the ends of the seats' armrests. The customs official imposed a 45% duty on the font and seats according to Paragraph 98 of the Tariff Act of 1913, which addressed "marble… wholly or partly manufactured into monuments, benches, vases and other articles." (Olivotti, 7 Ct. Cust. at 47). The importers argued that the works should be assessed at 15% tariff under Paragraph 376 as "works of art, including…sculptures." (Id.).
The Customs Court disagreed with the importer's arguments and held that the marble font and marble seats were not works of art despite their beauty and artistic character. (Id. at 48-50). According to the court, beauty alone does not sufficiently designate a work as a sculpture or piece of art. The court defined sculpture as a branch of the fine arts that imitates natural objects, chiefly the human form, and "represents such objects in their true proportions of length, breadth, and thickness" through carvings out of stone. (Id. at 48). This "true" reflection of a natural object is the primary standard for fine art; for, as the court explained, fine arts are "imitative of natural objects as the artist sees them, and appealing to the emotions through the eye alone." (Id. at 48-49).
For the court, the marble font did not portray a natural object as its representation of leaves was purely ornamental. The court explained that "which makes the font artistic and beautiful is the purity of its lines and its just proportions, and not the carving on the column, which we think must be regarded at best as decorative and not sculptural art." (Id. at 48). Similarly, the lion-like carvings on the marble seats were only embellishment and did not sufficiently render the seats as sculptural art. Relying upon this "natural" standard, the court declared that the seats were not an "expression of the sculptor's impulse to imitate some object in nature as he conceived it to be." (Id. at 49). Instead, the primary conception of these seats was to serve a useful purpose, and any artistic features were purely decorative.
Brancusi v. United States
In 1926, Brancusi's Bird in Space traveled from France to New York for an exhibition and claimed free entry as a work of art under Paragraph 1704 of the Tariff Act of 1922. The Customs Official assessed the work as a "manufacture of metal," not a piece of art, and imposed a tariff of 40% of the sales price. (Brancusi, 45 Treas. Dec. at *1). Edward Steichen, an artist who had purchased Bird in Space, filed an appeal funded by Gertrude Vanderbilt Whitney, a collector and patron of the arts.
While Brancusi himself did not appear before the court, other artists, a museum director, and art critics testified on his behalf, asserting that Bird in Space was a work of art created by a professional artist. The court pressed the witnesses about whether the sculpture resembled a real bird. One witness responded that the sculpture's title was a "minor point…not of any consequence", as its form and balance were more revealing. (Giry 2002). The witnesses for the government argued that the court should follow the precedential standard set by Olivotti: that art must represent a natural object in its true proportions. (Brancusi, 45 Treas. Dec. at *4-5).
The Customs Court began its decision by declaring that the sculpture was "characterized" as a bird but "without the exercise of rather a vivid imagination it bears no resemblance to a bird except, perchance, with such imagination it may be likened to the shape of the body of a bird," even though "[i]t has neither head nor feet nor feathers." (Id. at *4). Just briefly alluding to the Olivotti standard, the court recognized, however, that a new school of art that centered around abstraction was developing at that time. The court found significant that the work was an original production by a professional sculptor and declared that while Bird in Space did not immediately resemble a bird, it was "beautiful and symmetrical in outline" and "nevertheless pleasing to look at and highly ornamental." (Id. at *8). Thus, the court held that Bird in Space was entitled to free entry under Paragraph 1704 of the Tariff Act as a work of art. (Id.).
Brancusi's Modernist Bird in Flight challenged the Customs Court to consider art differently, moving from the natural form standard in Olivotti to a standard that more appropriately reflected contemporary art of that period. The court recognized that Modernism was challenging the very notion of art with abstract representations such as a "bird in flight." While the court in Brancusi did not specifically articulate a new definition of art, its recognition and acceptance of abstract forms inherent in Bird in Space as art were a significant departure from precedent.
New Customs for Art & Law
Some may argue that a person untrained in aesthetic analysis, such as a judge, should not and cannot determine whether a work is art. While the customs definition of art may not influence the appreciation of an artwork, such a determination may affect the market value, ownership, preservation, and even display of a work. The impact law has on art is unavoidable but not disadvantageous or meaningless. Examining the legal history of a work such as Bird in Space adds to the study and understanding of the work as a whole. The court's description of the sculpture as "beautiful and symmetrical" with its struggle to comprehend the abstract features is still a valid interpretation of the object. Expanding to the larger art historical context, the Brancusi trial in a way legitimized certain attributes of modern art, including that art can resemble ideas inspired by the artist and retain a sense of beauty without needing to imitate natural objects. (Mann 2011).
Similarly, the law and its definition of art can directly influence the art market. Congress intended the tariff framework to serve a dual purpose: to protect American craft industries by taxing the import of "artisan" objects and to encourage the import of European art to build American collections with the free import duty for "fine arts." The Brancusi case in particular transformed the modern art market in New York. The free import of modern European art after the Brancusi case contributed to the growth of modern art museums in New York, such as the Museum of Modern Art (MOMA), which opened one year after the decision. Foreseeing this benefit while planning to open her own museum (Whitney Museum of American Art, 1931), Gertrude Vanderbilt Whitney may have had an ulterior motive when she funded the Brancusi appeal.
While law can influence art, art can also shape the legal analysis. The bridge between natural and abstract inherent in Bird in Space prompted the court in Brancusi v. United States to adapt the judicial standard for a "work of art." While the Customs Court in this case responded to developments in modern art, other courts have struggled to navigate the overlap between art and law. Judges often avoid defining art by resolving cases on a different issue and even may rely on their own taste to influence their legal conclusions. (Giry 2002).
Some have proposed that courts should employ aesthetic theories in their analysis. (Farley 2005, 809). Such engagement could potentially "reduce the mismatch of legal and artistic developments" that arise when the law cannot "keep up" with the somewhat rapid changes in art. (Id. at 857). However, aesthetic theories involve complicated philosophical analyses – a challenge even for those experienced in the field. Witness testimony and other fact-gathering procedural tools would allow the courts to enlist those familiar with aesthetic theories in order to take advantage of their expertise, as exercised by the justices and witnesses in Brancusi. Appropriate expert testimony would encourage the court to analyze the object at issue in an art historical context, providing a heightened understanding similar to that provided by legislative history with regards to statutory purpose and congressional intent. Recognizing that the respective experts in each field can contribute to the discussion and analysis would hopefully permit further artistic and legal collaborations to take flight.

Bibliography
Geist, Sidney. 1984. "Brancusi's 'Bird in Space:' A Psychological Reading." Notes in the History of Art 3: 24-32.
Giry, Stephanie. 2002. "An Odd Bird." Legal Affairs, Sept./Oct.
Mann, Tamara. 2011. "The Brouhaha: When the Bird Became Art and Art Became Anything." Spencer's Art Law Journal 2 (2).
Miller, Sanda. n.d. Brancusi, Constantin. Grove Art Online. Oxford Art Online. Accessed August 23, 2017. http://www.oxfordartonline.com/subscriber/article/grove/art/T010887.
Oxford University Press. n.d. Modernism. Grove Art Online. Oxford Art Online. Accessed August 23, 2017. http://www.oxfordartonline.com/subscriber/article/grove/art/T058785.
Hearings Before the S. Comm. on Finance on the Proposed Tariff Act of 1921, Vol. VI Free List, S. Comm. on Finance, 67th Cong. (1921)(statement of Robert W. de Forest, President of the Metropolitan Museum of Art).
U. S. v. Perry, 146 U.S. 71 (1892).
Brancusi v. U.S., 54 Treas. Dec. 428 (Cust. Ct. 1928).
U.S. v. Olivotti & Co., 7 Ct. Cust. 46 (1916).
Farley, Christine Haight, Judging Art, 79 Tul. L. Rev. 805 (2005).